Building Partnerships and Cooperation

Music Bliss has always believed in building cooperation with key partners as well as believing in cooperation with our local musicians and customers can bring us further. In the process, we were also proud to be working with many international and local brands to assist our customers in their solutions.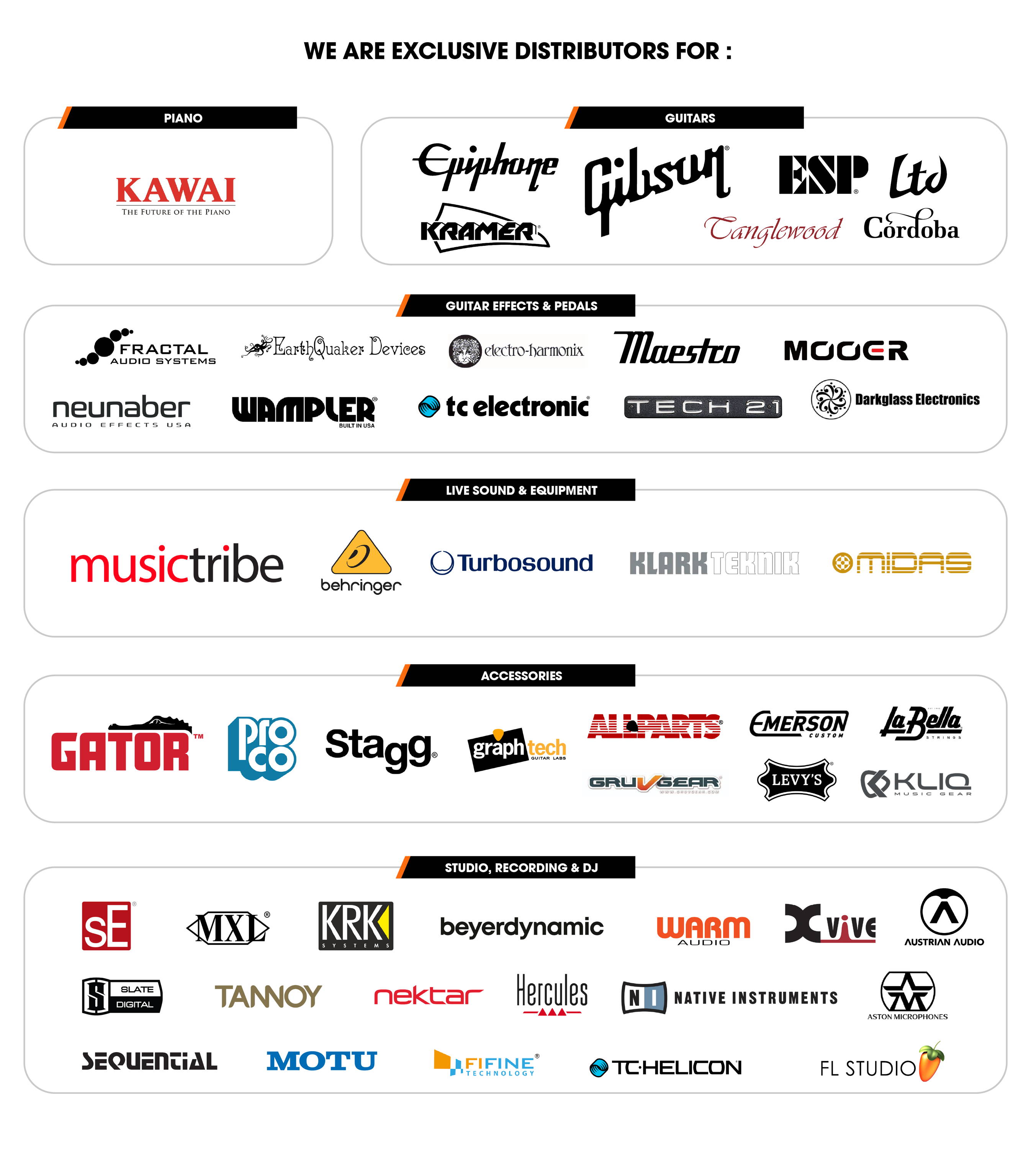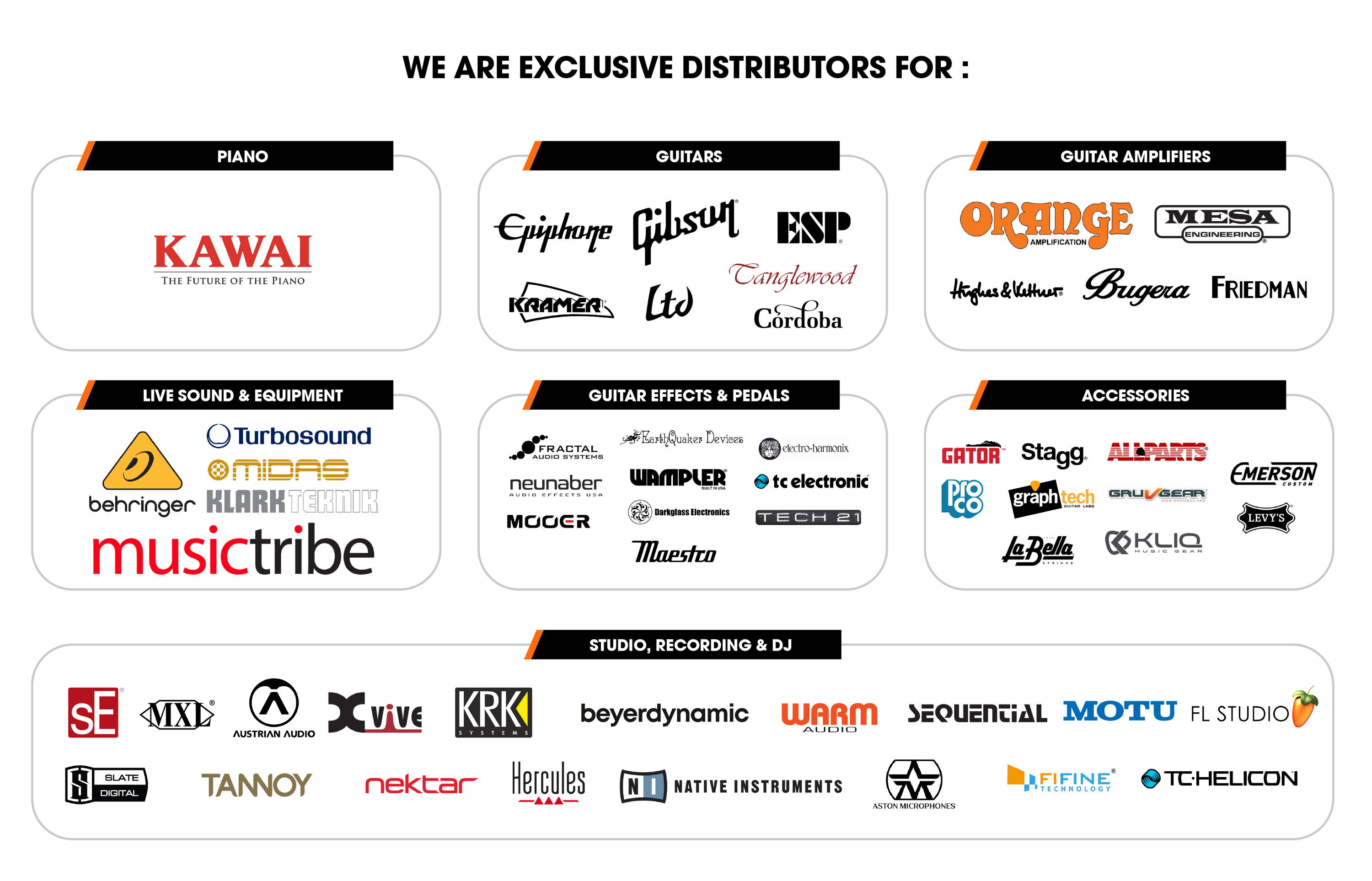 KUALA LUMPUR (CENTRAL REGION)
---
Direct Imaging & Sound Sdn. Bhd
No. 28/2, Block N, Jalan 3/93A, Warisan Cityview, Cheras, 56100 Kuala Lumpur
Akademi Muzik Progresif Sdn. Bhd
57, Jalan Mega Mendung, Off Jalan Klang Lama, 58200, Kuala Lumpur, WP Kuala Lumpur
AST Music Sdn Bhd
No. 18,18-1& 18-2,, Jalan 46/26, Taman Sri Rampai, Setapak, 53300, WP Kuala Lumpur
Pop Piano Music Academy
BLOCK D1-G4-07, No1, Jalan Dutamas 1, Solaris Dutamas, 50480 Kuala Lumpur
Hosanna Music & Dance Studio
No. 10A, Jalan Hujan Rahmat, 4, Wilayah Persekutuan, 58200 Kuala Lumpur.
KaKis Store
Jalan Pandan Indah 29, Pandan Indah 55100 Kuala Lumpur
The Guitar Store Cheras
33, Jalan Manis 3, Taman Bukit Segar, 56100 Cheras, Wilayah Persekutuan Kuala Lumpur
The John Lau Guitar Repair Center
57, Jalan Beluntas, Medan Damansara, 50490 Kuala Lumpur.
Serene Music Group Sdn Bhd
5C, Jalan 54, Desa Jaya, Kepong, Kuala Lumpur, 52100, Kuala Lumpur.
Celestial Q Sound Services Cheras, Kuala Lumpur
Commit Art FX Studios Kuala Lumpur
---
SELANGOR (CENTRAL REGION)
---
Quintus Music Academy
11-G, Jalan Sierra 10/1, Bandar 16 Sierra, 47120 Puchong, Selangor
Sunwave Music
5-5, One Avenue, Jalan Masjid PJU6A,, Off Persiaran Bandar Utama, 47400 Petaling Jaya
WhiZ Music School
Taman Meranti Jaya, 47100 Puchong, Selangor
Munkee Music
No. 58A (1st Floor), Jalan SS 2/4, SS2/4A, Selangor, 47301 Petaling Jaya
LTO Trading Sdn Bhd
No.57, 1 (GF, Jln Equine 10, Taman Equine, 43300 Seri Kembangan, Selangor
Brado Guitars
A9 - 1, Jalan SS 15/8a, Ss 15, 47500 Subang Jaya, Selangor
Bald Bear Music Supply
62, Jalan SS 21/58, Damansara Utama, 47400 Petaling Jaya, Selangor
Designer Music
8-1G, Jalan PJU 8/5e, Damansara Perdana, 47820 Petaling Jaya, Selangor
Yamaha Music (Cornerstone Music Sdn Bhd)
S23 & S23 A, Damansara Jaya, Jalan SS 22/23, 47400 Petaling Jaya, Selangor
Ensemble Academy (Music & Dance)
31, Jalan USJ 9/5p, Subang Business Centre, 47620 Subang Jaya, Selangor
Harmony Music Centre
49, Jalan SS 21/56b, Damansara Utama, 47400 Petaling Jaya, Selangor
The Guitar Store Subang Jaya
26, Jalan SS 15/4d, Ss 15, 47500 Subang Jaya, Selangor
WKV Music
No. 29, 1, Jalan Semenyih Sentral 3, Taman Semenyih Sentral, 43500 Semenyih, Selangor
Nippon Piano
46, Jalan Puteri 5/6, Bandar Puteri, 47100 Puchong, Selangor
E Music Sdn Bhd
46, Jalan Puteri 5/6, Bandar Puteri, 47100 Puchong, Selangor
Clef Music
27, bbk commercial centre, 1, Jalan Tiara 2D, Bandar Baru Klang, 41150 Klang, Selangor
BG Sound & Light Sdn Bhd
30M, Jalan Sbc 3, Taman Sri Batu Caves, 68100 Batu Caves, Selangor
Prima Dance & Music
17a, Jalan PP 2/2, Taman Putra Prima, 47130 Puchong, Selangor
LaBen Musico
6-1,Jalan Putra Murni 3, 2A, Lot No.3, Putra Heights, 47650 Subang Jaya, Selangor
Art Beat Studio
No. 39, 2, Jalan BS 4/1, Taman Bukit Serdang, 43300 Seri Kembangan, Selangor
---
PULAU PINANG (NORTHERN REGION)
---
Spectrum Music
3, Jalan Mano, George Town, 10250 George Town, Pulau Pinang
Jamcrew Music Studio
2-23,2828, Jalan Baru, Bandar Perai Jaya, 13600 Perai, Pulau Pinang
---
---
Anson Music
Pusat Perniagaan, No 80, Jln Meru Impian A1, Halaman Meru Impian, 30020 Ipoh, Perak
Wave Audio & Electronic Sdn Bhd
41 & 43, Jalan Pasir Puteh, 31650 Ipoh, Negeri Perak
Dee Music Studio
24, Lengkok Canning, Taman Canning, 31400 Ipoh, Negeri Perak
---
---
Wooi Music
Jalan Raja, Bandar Alor Setar, 05000 Alor Setar, Kedah
---
KELANTAN (NORTHERN REGION)
---
Jazz Piano Care & Sales
Jalan Pengkalan Chepa, Bandar Kota Bharu, 15400 Kota Bharu, Kelantan
---
NEGERI SEMBILAN (SOUTHERN REGION)
---
Ha Ha Music Centre
202, Jalan Tuanku Munawir, Bandar Seremban, 70000 Seremban, Negeri Sembilan
Powerchord Music
No. 240, Lorong Haruan 5/6, Oakland Industrial Park, 70300 Seremban, Negeri Sembilan
---
JOHOR BAHRU (SOUTHERN REGION)
---
C & M Music Centre
Plaza Angsana, Level 4, K4.5 & K4, Jalan Tampoi, 81200 Johor Bahru, Johor
Rhythm Music Centre
734, Jalan Taib, 82000, Pontian, Johor, 82000
JP Music Studio Pontian
762 TKT 2 JLN TAIB 82000 Pontian, Johor, Malaysia
Live Harmony Music
25, Jalan Molek 2/3, Taman Molek, 81100 Johor Bahru, Johor
---
---
Rocksmith Music Academy Labuan
Times Square, Level 3-Lot 19, 87008 Labuan F.T, Bandar Labuan, 87008 Labuan
---
---
Zoso Music Sdn Bhd (Kuching)
7 1/2 Mile, Kuching & Jalan Laksamana Cheng Ho, Kuching
Zoso Music Sdn Bhd (Bintulu)
No. 12, Lot 8646, Bintulu Town Square, Jalan Tun Ahmad Zaidi, 97000 Bintulu Sarawak
Zoso Music Sdn Bhd (Miri)
3rd Floor, Bintang Plaza, 98000 Miri Sarawak
Zoso Music Sdn Bhd (Sibu)
1st Floor, No.31 Pusat Pedada, 96000 Sibu Sarawak
---
---
Zoso Music Sdn Bhd (Kota Kinabalu)
Aeropod Unit C-08-02, Jalan Sabah Rail, 88100 Kota Kinabalu, Sabah
---